Skylarks Superstars are honoured as Singing Hands are Awarded an MBE!
Skylarks Superstars are honoured as Singing Hands are Awarded an MBE!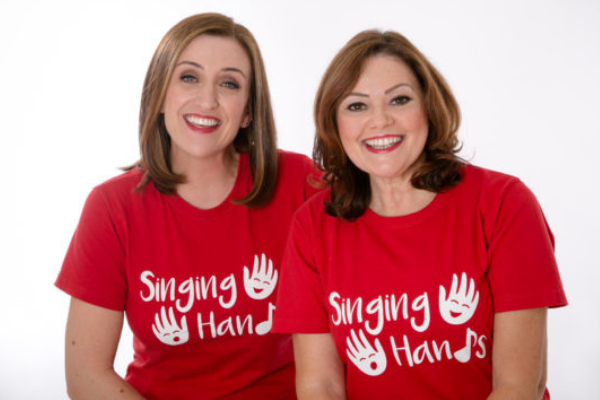 January 7, 2021
The New Year Honours 2021 listings have been published, marking the achievements and service of extraordinary people across the United Kingdom.
Skylarks is incredibly proud and delighted that Suzanne and Tracy our Ambassadors, are amongst 476 individuals being rewarded, for their contribution helping children with communication needs for over 20 years.
"Necessity is the mother of all invention" Suzanne quotes.
In 1999 their two children were born, Miles with Down syndrome and Ella who needed a
tracheostomy and also had other additional needs. It was obvious to them that sign language was going to be a long-term investment for both of their families.
Having connected at the charity, then called Me too and Co, the brain-child of another amazing mother of a special needs daughter, Anne-Marie Asgari, the stars literally collided and our humble performers started out on their way to becoming what has now become nationwide treasures, the hugely popular Singing Hands.
Long before Mr Tumble and internet access, they have been an integral part of the services offered by Skylarks for many years. Many of our families who have children with additional needs have grown up with Singing Hands as a cornerstone in their lives which means as we celebrate our 15th birthday this year it's a notable accolade to sing about.
Singing Hands are a joy to experience and an encouragement to all our families as today new members are discovering the joy of their offer through our regular sing and sign sessions both at our play sessions in Twickenham and more recently online using Zoom.
What a wonderful moment for them as they continue their valuable and uplifting work which is accessible across the world through online technology. Our super mothers prove that you can rise above challenges to bring about positive change together. Well done to you both.