Skylarks Superheroes Come To The Rescue
Skylarks Superheroes Come To The Rescue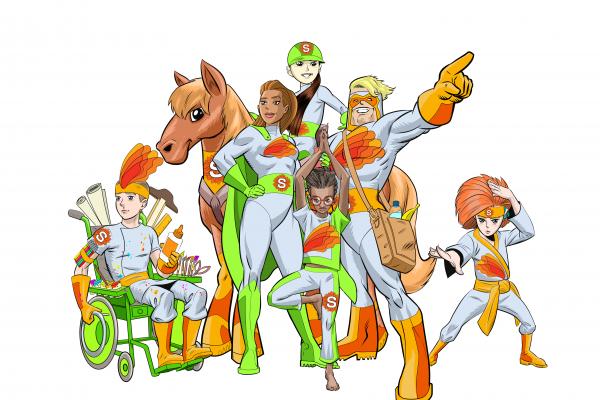 April 12, 2020
Skylarks Superheroes Come to the Rescue!
Over the past few months the Skylarks team have often thought, "Wouldn't it be great to have some characters showcasing just how amazing each and every single one of our members are?"
We know all too well that being a parent-carer or a child with additional needs takes courage and resilience to overcome what comes our way. So, like all great stories, we couldn't believe our incredible good luck when we were fortunate enough to make a connection with one of the best graphic illustrators of his generation, Prentis Rollins.
Prentis Rollins grew up in the suburbs of Washington D.C. and now lives in leafy Richmond upon Thames with his wife and three children. Since 1993 he has worked for DC Comics ('Green Lantern: Rebirth', 'DC: One Million', 'Impulse', and 'Batman: The Ultimate Evil'), Marvel Comics ('New X-men') and many more major titles and animations. His debut graphic novel 'The Furnace' was published in July 2018.
Prentis' involvement with Skylarks began last year when he accepted our invitation to visit one of our sessions and was suitably impressed by our range of activity and meeting some of our fabulous members. So much so that he accepted the request to create comic heroes for Skylarks and the Superhero family were born!
KA- POW!
I hope you'll all agree that they are truly tremendous and represent the qualities that our children and parents possess whilst getting on with their extraordinary lives and enjoying their skills.
We are so delighted to include the "Supers'' into our family and are immensely grateful to have Prentis' talents, support and generosity. We really look forward to showcasing them in ALL sorts of exciting ways. So, we're very pleased to introduce you to the Skylarks Superheroes and our first ever comic strip just in time to not only fight crime but the biggest villain of our time - CV-19!
BOO!