Skylarks Scoops Up a Win at the National Diversity Awards
Skylarks Scoops Up a Win at the National Diversity Awards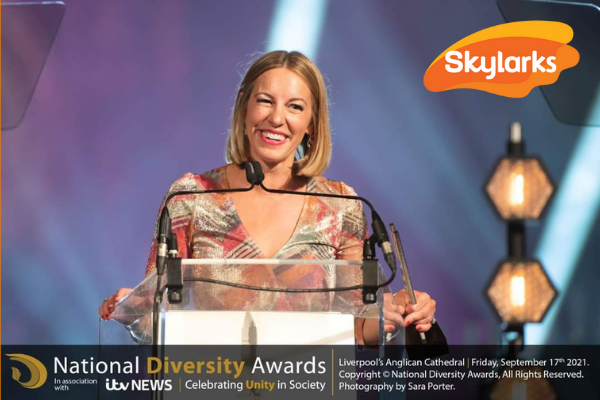 September 20, 2021
After a much-anticipated delay, community organisations and role models from across the UK headed to the breathtaking Liverpool Cathedral on 17th September to witness the country's 2020 winners being crowned the best of British diversity.
Skylarks were selected from seven others in the running for the Community Organisation for Age Award. Skylarks' Chair of Trustees
Jennifer Peters
proudly collected the award on behalf of the charity, paying homage to the amazing work of its staff and founder, Anne-Marie Asgari in her acceptance speech.
Sally Phillips,
Skylarks Patron said:
"
As Patron of Skylarks, I am incredibly proud of how far the charity has come. I have been with Skylarks on its journey for many years and have seen the dedication of all involved, and the wonderful family that has been created across staff, volunteers and beneficiaries. This is a much deserved award!"
Skylarks is a small independent charity that provides a supportive and active community for children with additional needs. They care for the whole family, providing opportunities to join in, develop and feel empowered. They aim to remove the isolation that can be experienced by families and their children who have a disability or additional needs. Skylarks are based in Richmond upon Thames but have an open door policy. Anyone, from anywhere, is welcome.
Aaron Guiver
Managing Director of Skylarks Charity said;
"At Skylarks, we are extremely proud to be recognised as the Community Organisation for Age, in recognition of the programmes put in place to enable our children to thrive. It is a testament to the dedication, passion and hard work of the people within our diverse community. We feel privileged to join such a prestigious group of shortlisted charities from the thousands of nominees.
After a difficult year for all our children and families, it is an honour to celebrate the National Diversity Awards, not only to celebrate the excellent resilience shown by our children, but also the amazing achievements of the community as a whole."
A record 60,000 people were nominated last year alone with an astonishing 126 nominees being recognised for their various achievements nationwide. A vast array of worthwhile causes were commended, from a campaign challenging outdated perceptions of Down Syndrome, to a programme helping disadvantaged women and girls. Liverpool's grand Cathedral was certainly filled with kindness and goodwill.
The energy in the room was an intrinsically positive one, with each nominee being extremely supportive of the other. The evening was kicked off by founder of the NDA's
Paul Sesay
, discussing the importance of the National Diversity Awards and what inspired him to create the ceremony.
"After a difficult year with many challenges to overcome due to the impact of Covid-19, I am so thrilled to finally be able to give our 2020 nominees the ceremony that they deserve,"
said Mr Sesay.
"
It is a privilege to recognise your bravery, resilience and courage. This night is for you; In my eyes and in the eyes of many others – you have already won.
"
The National Diversity Awards was a real feel-good ceremony, where each nominee had earned their right to be in attendance for their fantastic work in their specific community.
The UK's grandest celebration of diversity was a wholehearted event refreshingly celebrated in such swanky style, that it was evident who were the stars of this show, the well-deserving, humble and extraordinary nominees