Skylarks partners with Haymarket Media Group for epic charity ride
Skylarks partners with Haymarket Media Group for epic charity ride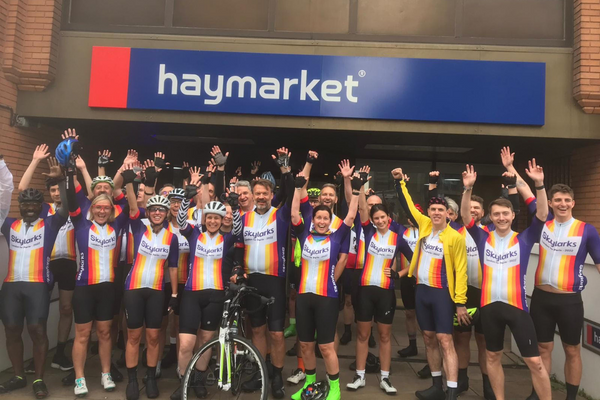 September 9, 2022
On Friday, 9 September, a group of 32 cyclists embarked on an over 180-mile cycle ride to Paris, raising money for local Twickenham charity, Skylarks.
The group, made up of employees from Haymarket and volunteers for Skylarks, set off from Haymarket's Twickenham office for the two-day expedition, crossing the channel on a ferry from Newhaven to Dieppe on Friday evening, finishing up at the Eiffel tower on Saturday afternoon. Fellow participants include Skylarks' Chair Jennifer Peters and Haymarket's Director, People & Communications, Celia MacMillan.
Speaking about the charity partnership, Haymarket's Director of People and Communications says: "For some of us, this was our third big ride with
Skylarks, but this one was by far the toughest but also the best. We had an incredible bunch of colleagues and Skylarks supporters who all pulled together and kept each others spirits up in spite of the challenging profile and weather! You know it was a success when we're already talking about next year's challenge..."
Haymarket's CEO Kevin Costello stated: "From our first meeting with Skylarks, we instantly felt a connection and loved their passion and energy. Our partnership has gone from strength to strength and this is just another example of our amazing Haymarket employees throwing themselves in, to support the brilliant work Skylarks do. I couldn't be prouder!"
The total raised for the charity through the cycle challenge so far is £44,000 including gift aid. We also had a team of runners from Haymarket who took part in the Big Half on 4th September and raised a total of £2400 and there will be more runners taking part in the next RunFest 10k at Kew Gardens.
The charity partnership between Skylarks and Haymarket began in December 2018. Haymarket's content marketing agency, Wonderly, helped the charity rebrand from Me too & Co to Skylarks.
To find out more about Skylarks and the cycle challenge, please visit
https://skylarks.enthuse.com/cf/haymarket-london-paris-2022
Media enquiries:
Skylarks enquiries:
Aaron Guiver
aaron@skylarks.charity
Haymarket enquiries:
Tara Geoghegan
communications@haymarket.com
About Skylarks:
Skylarks, is an award winning independent charity that exists to provide a supportive and active community for children with disabilities and additional needs, and their
families. We help families with a child (aged 0-25) with any physical, learning, emotional or behavioural difficulties, including those without a diagnosis.
Over 4500 families have currently joined Skylarks to access opportunities for children with additional needs and their siblings to play, develop, and gain vital information and support. We have a completely open door policy, so anyone from anywhere is welcome. Skylarks' activities include; Inclusive Activities and Trips, Hydrotherapy, Music Therapy, Developmental Yoga, Counselling, Parental Support Groups, and a SEND Advice Service (Education Legal Based Advice). Skylarks recently rebranded from Me too & Co to Skylarks Charity with support from Haymarket Media Group.
www.skylarks.charity
About Haymarket Media Group:
Haymarket Media Group creates award-winning specialist content and services for international audiences. The company has more than 70 market-leading brands created by world-class experts in locations in the UK, the US, Hong Kong, Singapore, India and Germany.
Our consumer and professional brands connect people and communities across digital, mobile, print and live media platforms. Although Haymarket's portfolio is diverse, its mission is the same across borders and markets: to deliver brand experiences which truly meet the needs of its audiences and clients.
Haymarket's brands include What Car?, Autocar, Campaign, PRWeek and Finance Asia.
www.haymarket.com