Highlights from this year
Highlights from this year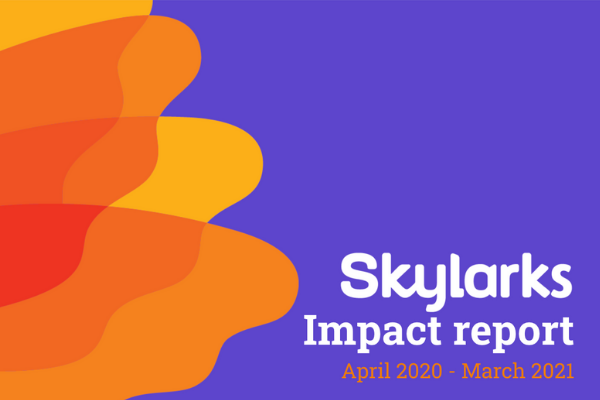 December 8, 2021
This year was unlike any the charity has faced in the 15 years since its conception. The COVID 19 epidemic swept through the world, forcing Skylarks to close our drop-in sessions for the first time in our charities history. We have many vulnerable children, families, and volunteers, so could not take risks with their health. Despite incredibly challenging circumstances, we were determined to continue being there for families when they needed us the most.
The services at Skylarks became even more important as thousands of children and their families faced months of isolation without vital support networks, schools, friends, and extended family. Within a matter of days, staff reacted swiftly, creating new accessible content, working closely with our partner organisations to develop a new online offering.
It's been inspiring how each team member has risen to the challenges whilst continuing to be positive and focused. I wanted to take this opportunity to thank our dedicated team, who have shown outstanding commitment, and also our members, who have been hugely supportive, helping us to deliver a quality of service which really makes a difference.
"The pandemic required Skylarks to adapt and operate within a new context. Skylarks has not only responded, but rose to the occasion by supporting an ever-growing number of families who honestly without our support would have truly struggled. 2020/21 is not only a testament to the charity's resilience but demonstrated the critical role we play in the community. We look forward to 2021/22 as we build further upon this solid foundation."
JENNIFER PETERS, CHAIR
Some of our highlights from this year include:
Offering over 260 counselling sessions to children and carers

The development of our online programming equating to 70% of our offering

We had an average of 8.4 bookings per family

Winning the National Diversity Award for Age 2020

The launch of our SEND Advice Service offering parents support and advocacy

Continuing to gain momentum with the Marble Hill project, to support our long term vision to have a permanent home

New on-demand videos for families who were shielding or non-local

Partnering with comic book artist Prentis Rollins to create our own superheroes and comics

New online activities like coding courses, magical quests and online life skills

The creation of a new private Facebook group for parents and carers to connect and get support

Partnering with Park Lane Stables to offer experiences for children and their siblings in a COVID compliant manner
COVID-19 upended our families' worlds in more ways than one. Skylarks proved how vital our services are; Adapting swiftly to provide a lifeline to those in need.
The last year was incredibly tough, and we recognise that 2021/22 will undoubtedly bring further challenges. We are confident that the foundations built over the last year put the charity in an excellent place, and we're excited for the year ahead.
Thank you again for all your support
Aaron Guiver, Managing Director of Skylarks