Counsellors needed for Off The Record
Counsellors needed for Off The Record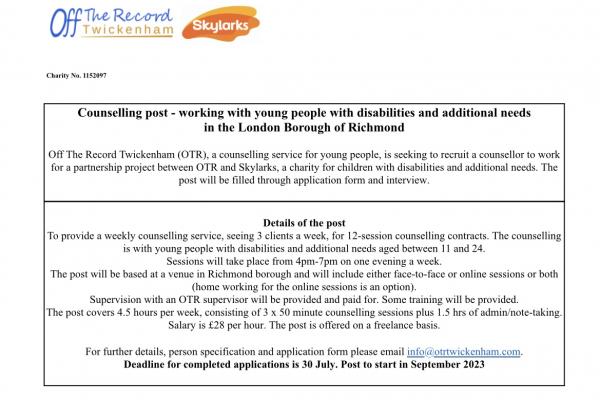 July 12, 2023
Counsellors needed for Off The Record
Off The Record Twickenham (OTR), a counselling service for young people, is seeking to recruit a counsellor to work for a partnership project between OTR and Skylarks, a charity for children with disabilities and additional needs.
The post will provide a weekly counselling service, seeing 3 clients per week for 12-sessions of counselling to young people with disabilities, aged 11 to 24.
Hours of work : 4pm-7pm one evening a week.
Based at a venue in Richmond borough, to include either face-to-face or online sessions or both (home working for the online sessions is an option).
Please find link to all documents, including person specification and application form, with full details for applying below or email
info@otrtwickenham.com
with any questions:
https://otrtwickenham.com/counsellor-vacancy-working-with-young-people-with-disabilities-and-additional-needs/