BIG PLANS FOR SKYLARKS
A new nest on the horizon?
Re-imagining Marble Hill Playcentres
We at Skylarks have been working away behind the scenes for a while, along with Marble Hill PlayCentres and Otakar Kraus Music Trust (OKMT), with English Heritage and various other local organisations and agencies to develop plans to have our own premises together!
Imagine an amazing new permanent and full-time home for Skylarks, two minutes away from where we currently are! In a central Twickenham location, surrounded by beautiful green land and an imaginatively-designed tactile, sensory and ecological play space in Marble Hill Park. Sharing facilities with other organisations whose aim is also to improve the lives of disadvantaged children.
With consultations, designs, research, grant applications and planning applications either underway or on the horizon, it's up to us to make it a reality - which is why we've started to fundraise for this exciting project!
Our Curry Night on Wednesday 4th July got our specifically-invited audience excited and on board and raised £1,000. Now many initiatives are in the pipeline to keep the momentum flowing and funds coming in. Like this one!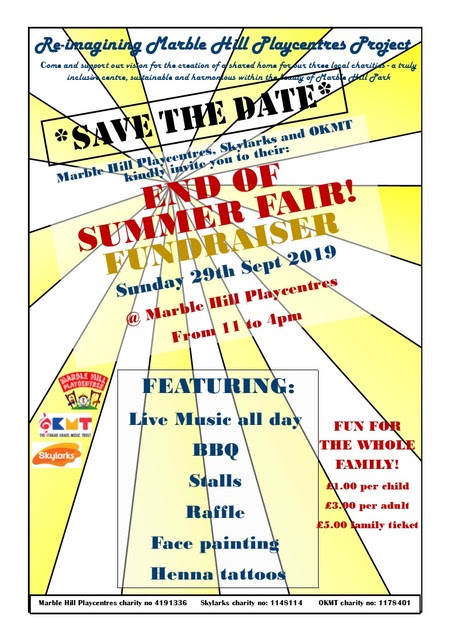 So save the date and let's come together on Sunday 29th September for some end of summer fair fun and to start raising money for this wonderful project!
Please get in touch if you're an entertainer, are in a band, are a magician, puppeteer, stall holder with artisan goods to sell or simply wish to volunteer your help on the day.
Thank you!